The Tandem IMS team consists of approximately 70 staff in pedagogical and commercial functions. We all enjoy the challenges and rewards of integrating multilingualism into the curriculum of an international school, supporting and challenging children on all levels and pulling together to ensure we provide high-quality education at all times.
Meet our teachers
Vacancies
Tandem IMS is always looking for motivated employees who want to help support our mission. Check out our job offers and send us your application. We very much look forward to being in touch with you soon!
Are you interested in a traineeship at our school, kindergarten, pre-school or nursery? Or are you looking for an apprenticeship as a «Fachperson Betreuung mit Fachrichtung Kinderbetreuung»? And you would like to get to know us better at a trial day? Please contact Manuela, our HR Manager, she will be able to give you all the information you are looking for!
Our benefits
Tandem IMS is dedicated to providing a positive, healthy and future-orientated workplace that is inspiring and joyful.
Market-based Salary
A market-based salary including the fixed 13th month is just as much a part of our standard as our modern holiday package.
Loyalty Bonus
We reward consistency and reliability: staff get bonuses on their salaries for 5, 10, 15 and 20 years of service.
Further Education
We welcome development and will support our staff (both financially and/or with time allowances) in pursuing personal development courses. We also offer internal seminars and training days, as well as first-aid courses.
Family Oriented
Children are at the centre of our attention – also when it comes to our staff. Depending on the position, we offer a number of different work models such as part-time or home office, in order to ensure a good work-life balance.
Paternity Leave
We offer 10 days paternity leave at 100% salary.
Discounts
Work while your children are perfectly safe and being looked after: if you have children yourself, you will be able to benefit from generous discounts on fees for their childcare or school classes.
Events
We are passionate and professional about our work. And we celebrate when we have been successful. Regularly. Look forward to staff events such as team building as well as Christmas and team dinners.
Atmosphere
We offer a pleasant and lively work environment: straightforward, family-orientated and multicultural. We value teamwork, we treat each other respectfully, with honesty and loyalty, and share our insights and experiences.
Idyllic Location
All three schools are located on the sunny northern shore of Lake Zurich, well connected in terms of public transport and close to a number of places to eat or buy food.
Multifaceted
We guarantee you will not get bored. The rather varied field we work in and the melting pot of languages, cultures and age ranges are food for imagination and will give you ample room for creativity, ideas and initiatives of your own.
Special benefits for apprentices
We invest in the education of our young professionals:
Tandem IMS will pay for the entire learning material for 3 years if you train for «Fachmann/Fachfrau Kinderbetreuung EFZ».
Each year, we organise an outing for apprentices and trainees that offers a welcome change to the day-to-day work and environment.
Our conditions are exceptional compared to other places that offer internships

and apprenticeships

.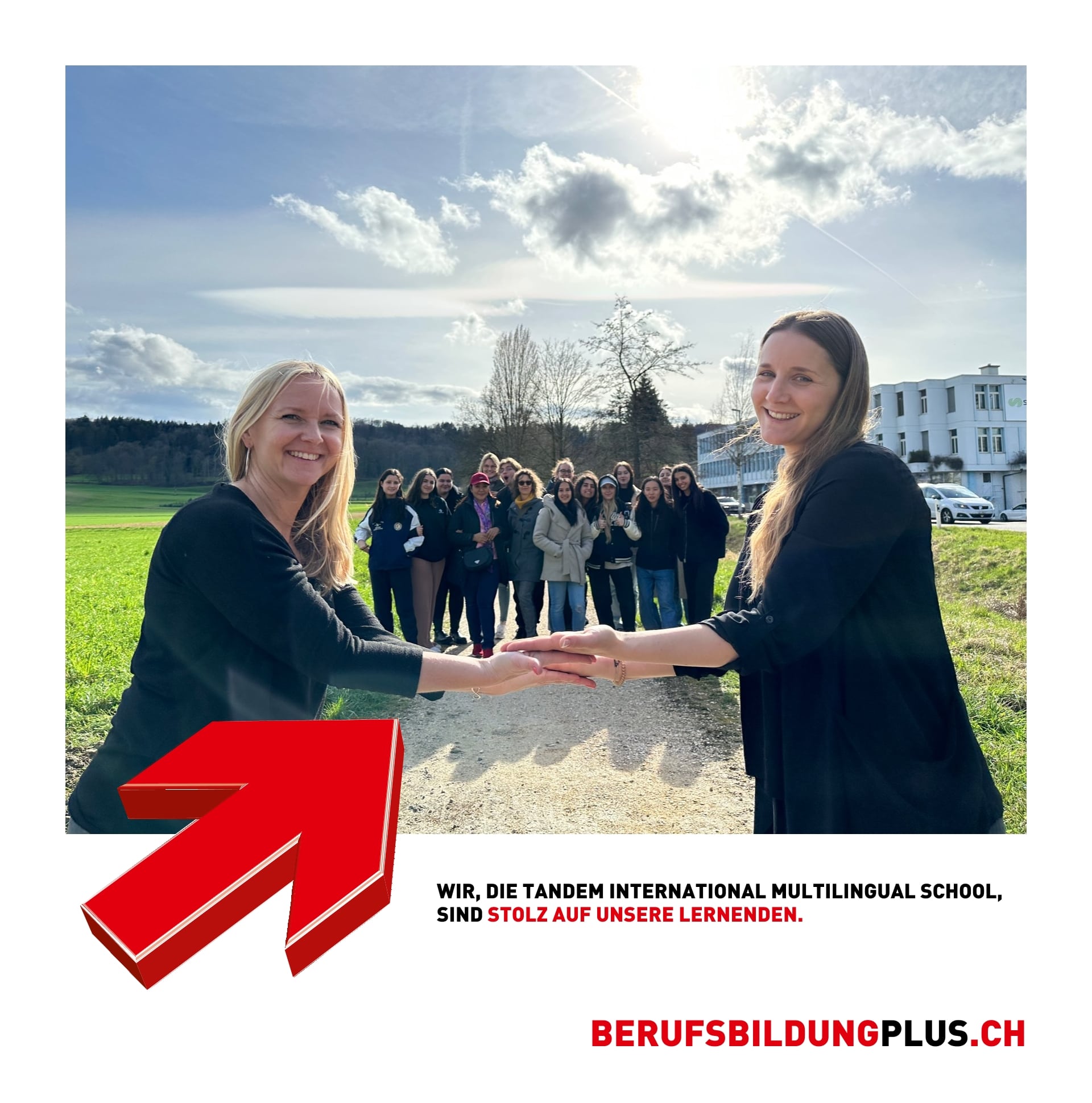 Since August 2022, I have been working at Tandem IMS and I can say with a clear conscience that I experience a very exciting and varied working day. Every day offers the opportunity to gain new professional and personal experiences and to deepen and optimise my skills as a teacher. Working together is essential at our school and despite a common vision, we have the freedom to be individual as teachers. We are given a lot of space to implement our own ideas. I particularly appreciate the open communication culture and the cohesion of our dynamic and supportive team. But I also enjoy the valuable work with the students, their different backgrounds and needs.
I have been working at Tandem since 2017. Tandem gave me the opportunity to study and become a very proud lower primary school teacher. The school is special for its exceptionally varied teaching staff across all age groups which reflects a teaching community of inspiring educationalists, and a high commitment and dedication to the personal growth and development of every individual child in the school.
For 15 years, I have been a part of the Tandem IMS team. I love teaching kindergarten, and I am not exaggerating when I say that my profession is my calling. Our concept allows me to bring my personality to the forefront every day, to grow and develop continually. Tandem IMS, with its multicultural and multilingual environment, consistently offers me opportunities for professional and personal growth. Within our team, we collaborate closely and emphasise using our pedagogical expertise as our collective strength. And not to forget, Seefeld is a trendy neighborhood where we enjoy spending time together after work.
In July 2022, I will finish my first year of teaching in lower primary at Tandem IMS. Teaching in a culture of language diversity has been a highlight for me. The opportunity to collaborate with my German speaking partner teacher as well as the rest of the multilingual staff, children and families has been an enriching professional experience. Tandem IMS offers a dynamic school climate with a strong learning community and I feel fortunate to be a part of it.
Since 2020, I've been working at Tandem IMS in Zollikon and I'm absolutely thrilled – this has been the case since my very first days here! The concept and the way we work are truly convincing. Working within the team is fantastic. The work environment is professional and there is a continuous focus on personal growth. And the amazing responsibility of guiding, supporting, and nurturing children along their journey is truly enriching – every single day!
I started working at Tandem IMS in 2015. I worked in all three locations and was amazed at the uniqueness of each team and teaching technique, encouraging the children to be the best version of themselves. Tandem IMS gave me the opportunity to study and become a proud early years teacher. It brings me so much pleasure and joy to watch these lovely little ones grow and move on to the next amazing teacher.
Tandem IMS has afforded me the chance to smoothly navigate my apprenticeship as a child care worker, paving the way for a successful graduation. As I embark on this new chapter, I find myself with a year ahead, collaborating closely with a supportive team, now taking on the role of a group leader. Each day brings a sense of fulfillment as I witness children taking small but significant steps in their development, all while ensuring they thrive within a secure and nurturing learning environment.
Since August 2018, I've been a part of the international team at Tandem IMS. I started as an intern, then had the opportunity to complete my training as a certified child caregiver in two languages, and now I work as a group leader. Every day, I've been and continue to be supported by the appreciative team. I gather valuable experiences to help and nurture the children on their journey.