To assess the progress of individual students' development, we conduct a series of interim tests and examinations.
Class and School Assessments
We have regular class assessments in German, English, Maths, Enquiry and French. Other smaller assessments are equally done in Art, History of Art, Music, Science and IT. This is an integral part of our programme with clear guidelines and tracking progress systems for teachers, children and parents, which tie into our self-evaluation and target system as well as our progress reports.
In addition to the class assessments, we run two major assessment programmes within the school and across most of the upper primary grades:
UK SATs: 2nd to 6th grade.
Swiss Lernlupe: 3rd to 6th grade.
Portfolios and Progress Reports
Twice a year, parent/teacher conferences as well as student/parent/teacher conferences will keep you informed of your child's progress. Regular communication with the teachers is welcome.
At the end of each semester, you receive a detailed progress report with teacher comments under each area of learning as well as the child's grades.
At Pre-School and Kindergarten, children do not have grades but rather an appreciation of their progress in all areas of development and required skills.
From 1st grade, children will receive grades in the various subjects and these will be accumulated into an average in the progress report.
Children are equally encouraged throughout the year to self-reflect on their learning and their learning skills. An academic portfolio is created at the end of the school year for each child as well as a creative portfolio of their yearly work. These are memorable keepsakes for parents reflecting on their child's progress over an academic year.
French Exams
All our students are also getting ready to take the following French exams when they are in 3rd grade: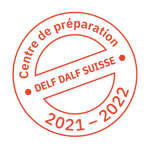 Not only do these exams and their preparation offer an interesting milestone for our children learning French, but they are equally an excellent first experience in sitting exams externally and with external examinators, thus preparing them for later entrance exam procedures (i.e. Gymi-Prüfung).